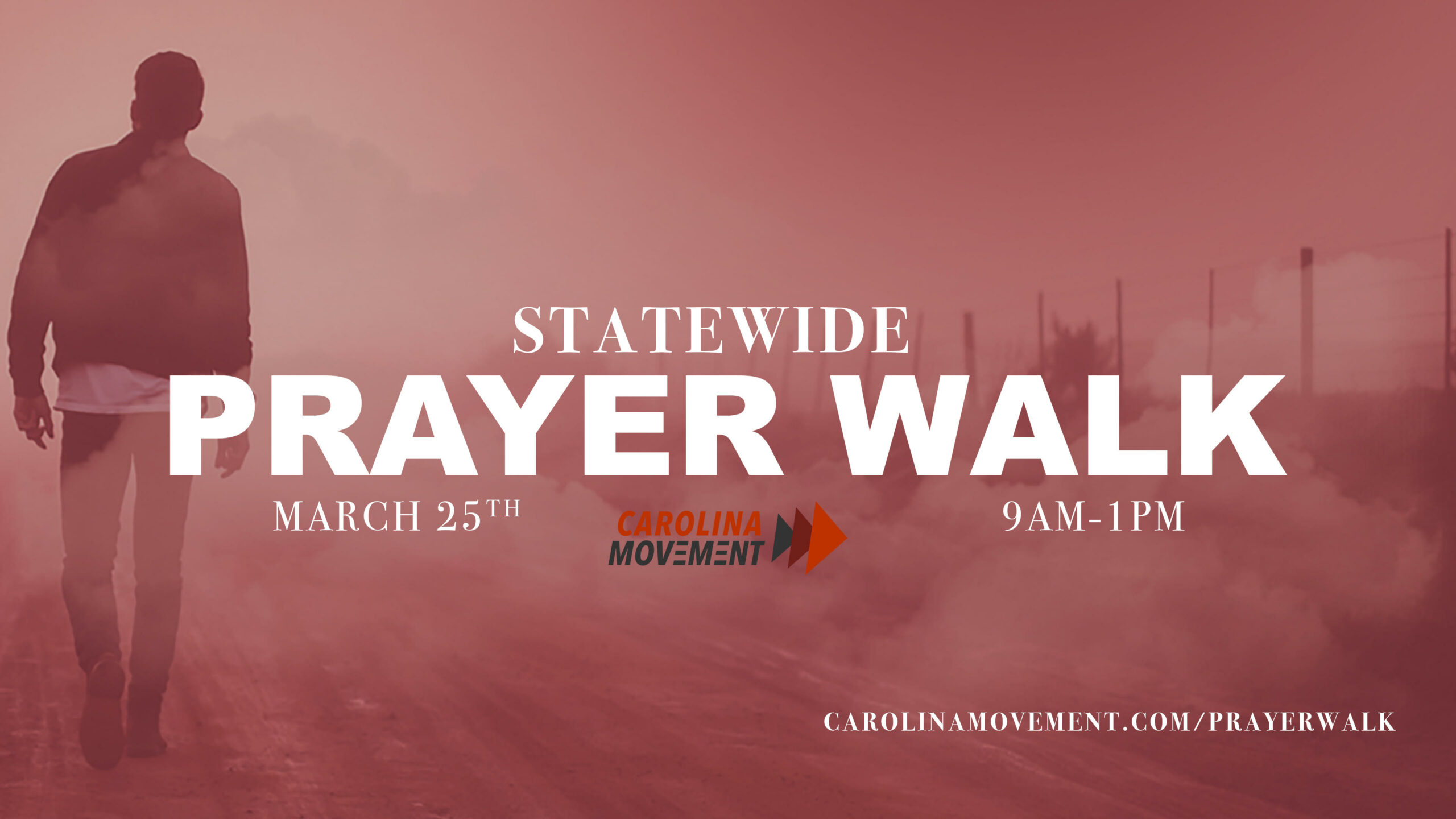 MARCH 25 (Saturday) – 9am – 1pm
Join us for our first annual Carolina Movement Statewide Prayer Walk! Churches from all across North Carolina will be hitting the streets at the same time to plead with God to bring lost sons and daughters in our community and state back home. The prayer walk is designed to bring awareness to the lostness of NC and awaken a passion for collaboration, prayer, evangelism and church planting.
All North Carolina Churches are invited to participate regardless of your involvement with Carolina Movement! We are praying for a cross denominational uniting of evangelical Christian Churches uniting under the name of Jesus to cover our state and their community in prayer for people in NC to know the good news of Jesus and find their way home.
Gather
9-9:15am
Registration & T-Shirt Distribution
9:15-9:55
Worship, Inspiration & Prayer
9:55-10:00
Statewide Zoom Prayer Moment
10:00-10:15
Prayer Walk Training
Scatter
10:15-10:30
Travel to Walk Route
10:30-Noon
PRAYER WALK
Celebrate
Noon-1pm
Celebration, Sharing & Lunch at Local Church
Our Statewide Prayer Walk will be hosted by both Regional Churches and individual churches outside of designated regions who would like to host. Let us let know if you are interested in hosting a prayer walk from your part of North Carolina! Regional Host Locations Coming Soon!
Carolina Movement will provide plenty of resources to help your church have an incredible experience at our Statewide Prayer Walk! We will provide graphics, promotional materials, social media posts, prayer prompts, day of ideas and an event guide. We will be sending out resources to all registered churches as we get closer to the Statewide Prayer Walk.